Here's Why You Need the Air Max 180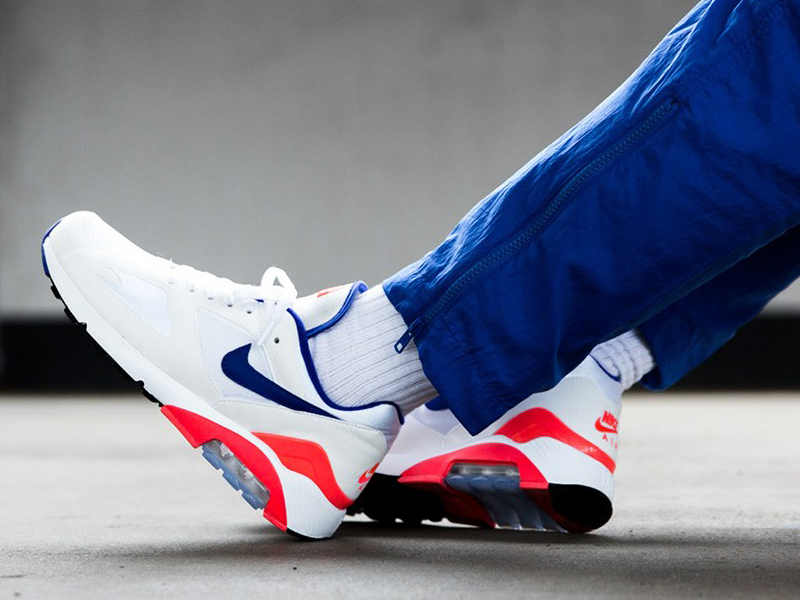 A sneaker is usually reissued when it celebrates its anniversary or when tied to a cultural phenomenon. Take for example the Nike Air Max line. Over the course of the last 20-30 years, these silhouettes have been retroed, reissued, and served up in hundreds of colorways simply because they "worked". Today, we'd like to take a closer look at the Air Max 180.
Soon after releasing the Air Max 90, the Air Max 180 was born from a collaboration between sneaker god Tinker Hatfield and Bruce Kilgore (Air Force 1). Both utilized "Air" in their designs and wanted to turn things up several notches with this project. The Air Max 180 was the first sneaker that had its Air unit come in direct contact with the ground.
When it came out, people felt it was too plain. Sure, the Air unit was the gimmick, but the shoe's nubuck/nylon upper was too dad-like (and this was the 90s!) for their taste. Even the great Michael Jordan wore the 180 in Barcelona during the 1992 Olympics but still didn't really catch on. The sneaker's notoriety would come a decade later.
In 2004, Nike gifted Kanye West with his first ever custom sneaker. Nike created a custom Air Max 180 in celebration of College Dropout. Soon after, British artist Dizzee Rascal and Eminem had their own custom 180s. More and more, the Air Max 180 became a cult classic. Things blew up when Rei Kawakubo took the Air Max 180 for COMME des GARCONS' latest collaboration. This year, Nike gave birth to the Air Max 270 — a silhouette inspired by the Air Max 180 and Air Max 93.
It may not have worked back in '91, but true taste makers know the value of the Air Max 180. If you missed out on the Air Max 180 when they released a few months ago, don't fret. The Air Max 180 OG 'Ultramarine' is now available at the Playground Premium Outlet. This is the best time to pick the Air Max 180, now they're at a discount. Take a look at some on-feet shots of the Air Max 180 and pick them up first thing tomorrow morning.
The Playground Premium Outlet is located at the Nodison Centre Building, Marcos Highway, San Roque, Marikina City 1801 ☎ (02) 646 0734/0917 8248791