Made for All Conditions: Nike ACG releases the ACG React Terra Gobe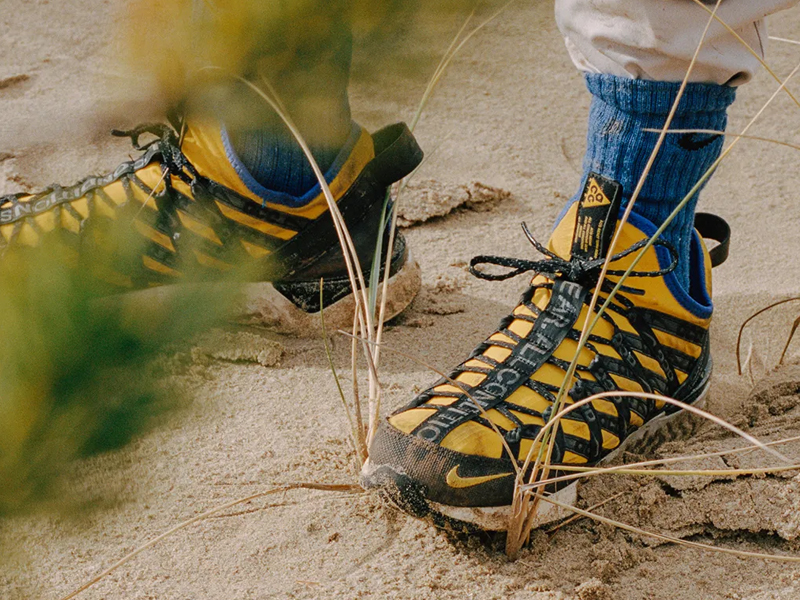 Go Be Outside.
We've seen a renewed love for Nike's ACG line the past few years and they add a new silhouette to the mix with the new ACG React Terra Gobe. Just like other ACG silhouettes, the Terra Gobe was named after the Gobi Desert and the brand's "go be outside" spirit.
Some people are still iffy about the whole ACG for lifestyle movement. A lot of the outdoor sneakers in the market are pretty chunky and 'too technical' looking for everyday wear. Nathan VanHook, Nike's Senior Creative Director and ACG footwear designer mentioned that the shoe was built for the outdoors, while keeping the shoe comfortable, modern and wearable. The new shoe includes a Nike React midsole, keeping the shoe lightweight and comfortable. Paired with an angled, saw-tooth traction for its outsole for proper acceleration (forefoot) and deceleration (heel). One major addition to the shoe is its upper, made of water-resistant, four-way ripstop upper on top of breathable mesh. While the shoe may look good, it doesn't end there. From the rubber pieces on the toe, webbing, finger pulls and the reflective heel piece – all these details provide proper function to the user.
The ACG React Terra Gobe's development was made possible to dersert marathoners, whose feedback improved the toe box and durability of the shoe. Nike wants people to get outside, explore, and adventure without an agenda. As the line suggests, All Conditions Gear.
The Nike ACG React Terra Gobe is now available, exclusively at Commonwealth (Rockwell). The shoe retails for Php 7,645.