IN FOCUS: Nike and Jordan Brand unveil the new kits for 2019 FIBA World Cup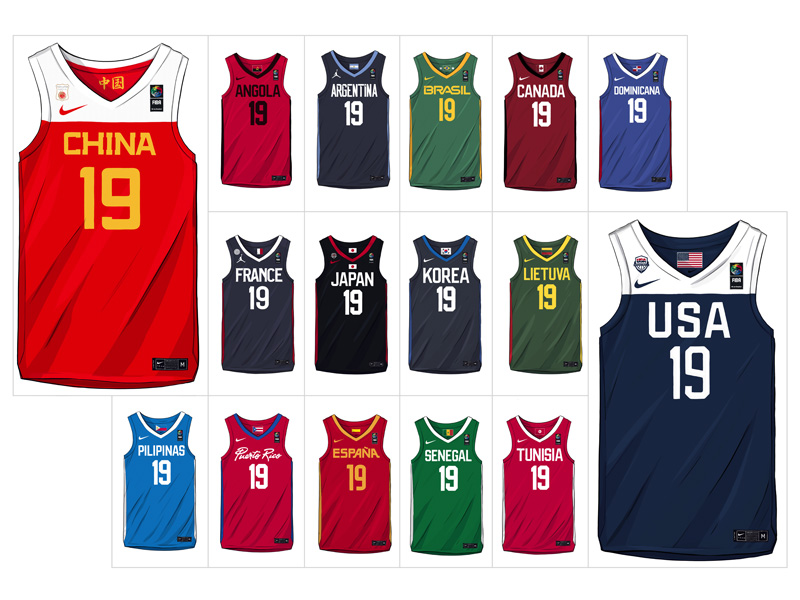 Yesterday, Nike and Jordan Brand unveiled the latest International team jerseys that will be used during this summer's FIBA World Cup. Upon first glance, the design looks quite plain versus previous years' kits. But as Josh Iverson, Nike's Senior Graphic Designer, mentioned, It's all about efficiency and while details may seem small, they make a larger impression to the bigger picture. Both the USA and China jerseys have disctinct details tied to their uniforms. China's uniforms have Chinese characters on the inside of the shorts; details that will truly matter to the federation, fans and most importantly the players.
"With the proportion of white on the home kits, we began to see these Chinese players as pioneers writing on a wide-open canvas," says Iverson. "They're driving the future of basketball forward. We wanted the color balance to speak to that pioneering spirit."
CHINA
The color blocking of the kits brings into focus smaller, inspirational phrases on the tops and the shorts, like Chinese characters on the neck tape, or a patch on the United States waistband reading "United We Stand." The Chinese Men's Basketball insignia is printed on the chest, featuring a golden dragon wrapped around a basketball, while the USA jersey features the United States Men's National Basketball Team crest.
The 2019 FIBA World Cup begins August 31st, but expect to see the kits on the respective teams as most countries are participating in pocket tournaments leading up to the big tournament.

USA
PHILIPPINES
SPAIN
FRANCE
JAPAN
BRAZIL
ARGENTINA
CANADA
CROATIA
SENEGAL
PUERTO RICO
TUNISIA
LITHUANIA
KOREA
DOMINICAN REPUBLIC
ANGOLA
CHINESE TAIPEI