Here's a set of Air Max Hybrids you'll surely sign up for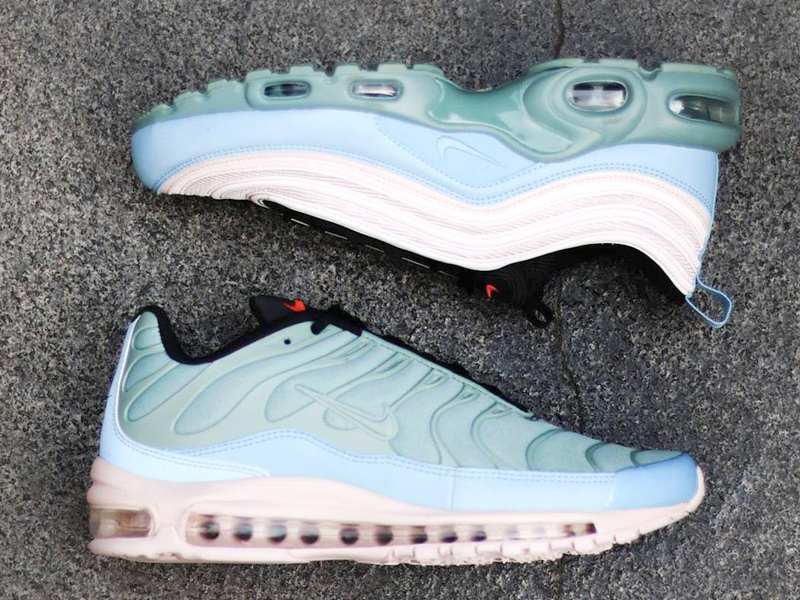 2017 was all about the Air Max 97. For a shoe that's been reissued several times, it took 20 years for the people to truly appreciate the silver bullet and its other colorways. By the end of the year, Nike introduced a pair of hybrids that surely put the best of both worlds together — the Air Max 97 Plus and the Air Max Plus 97. The hybrid was pretty straightforward — the uppers were switched with other pair's soles. What turned out was actually a pretty solid silhouette. The shoe first came out in a black/white number, but with spring/summer coming up, we're getting shades of blue and green that surely makes the sneaker stand out further.
For the Air Max 97 Plus takes a Mica Green upper with blue sidewalls, while the black tongue/lining creates a break on the shoe's subdued color palette. A cream/off-white AM97 sole completes that spring look. As for the Air Max Plus 97, it switches the color of the upper with the Tuned Air soles, while the black lining and blue sidewalls remain the same.
The Nike Air Max 97 Plus and Air Max Plus 97 are available today, February 10th, at Sole Academy BGC.