UNVEILED: Nike Basketball introduces the PG3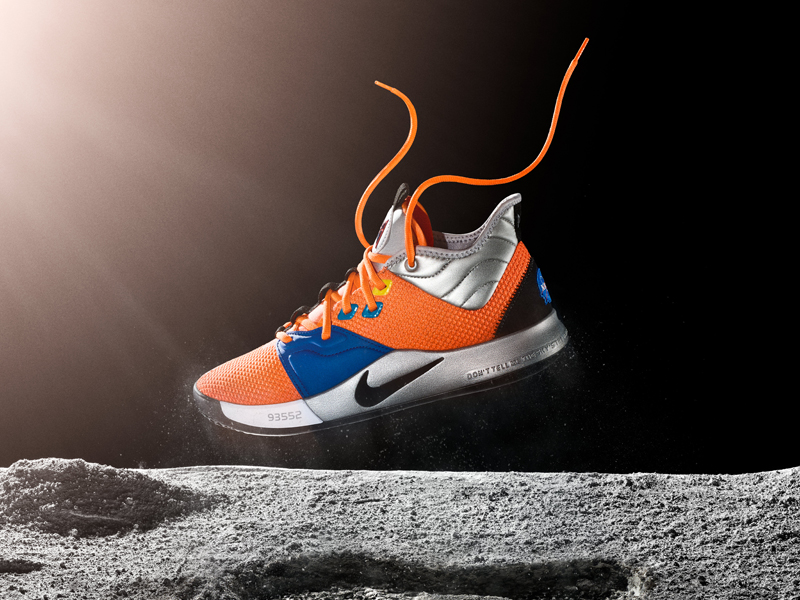 After a crazy December that was highlighted by his Playstation PGs, Nike Basketball brings us the next phase of the Paul George story, the PG3. For George, it's all about being efficient as he performs night in and night out as an elite athlete. To a point, George worked on walking under water to help his breathing and conserving energy.
As Nike Basketball Footwear Designer Tony Hardman and PG worked on his latest shoe, they had three (3) principles that they wanted on the PG3.
Shed What Is Unnecessary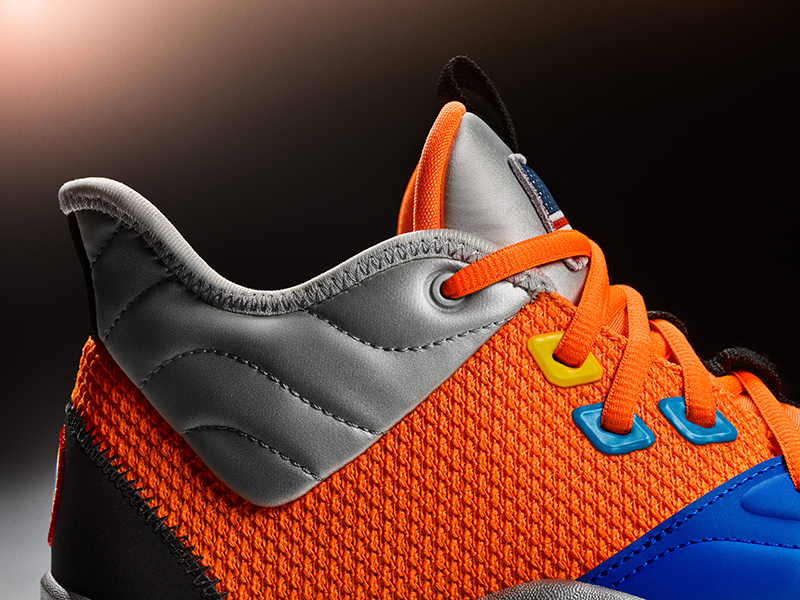 Make it faster. To stay in step with today's game, Hardman had to strip away the excess materials, leaving only critical features in the PG3. Paring down unnecessary material (such as extra TPU), integrating the tongue into the collar, employing a softer, lighter foam in the midsole (George says he gets more response from the forefoot Zoom Bag, a result of Zoom's ability to compress into the lighter foam) and utilizing mesh in the upper resulted in shedding nearly an ounce off the PG 2.5.
"Reducing the weight suits his style of play. He'll set and pop from three off of his forefoot, and he's doing a lot of cutting and slashing from the balls of his feet, both offensively and defensively," says Hardman. "That softer midsole foam and the forefoot Zoom Bag help him to generate more speed."
Make Every Step Matter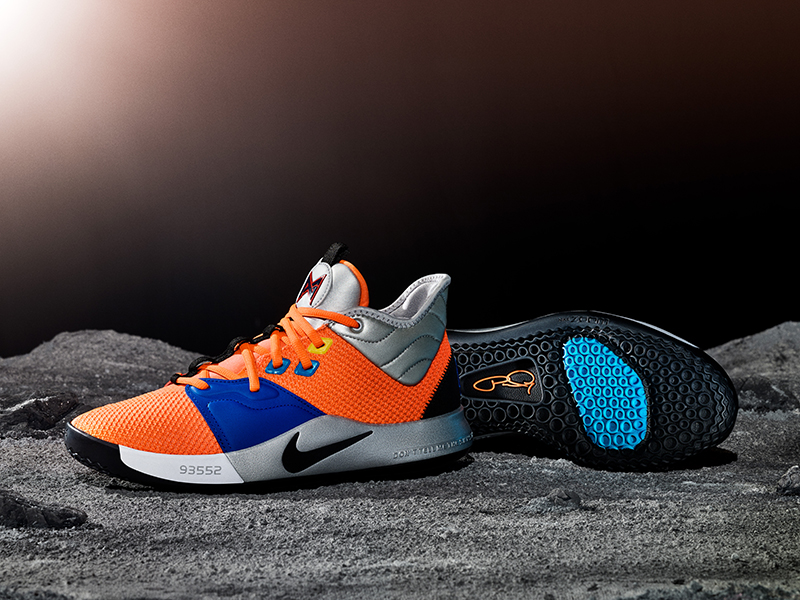 As a key cog in the OKC offense, George he's moving more than at any point of his career. Ball screens, pin-downs, floppy action – George needs to effectively handle player movement and utilize space on the offensive end. And on defense, he'll go after the opponent's top scorer, per usual for the two-way player. For 48 minutes, he must respond proactively at both ends of the floor to be on top of every play.
To ensure this, the PG3 features a circular traction pattern to help you cut sharply, close out at a sprint and stop on a dime. One thing the design team kept was the synthetic "wings" across the forefoot which helps keep you locked down.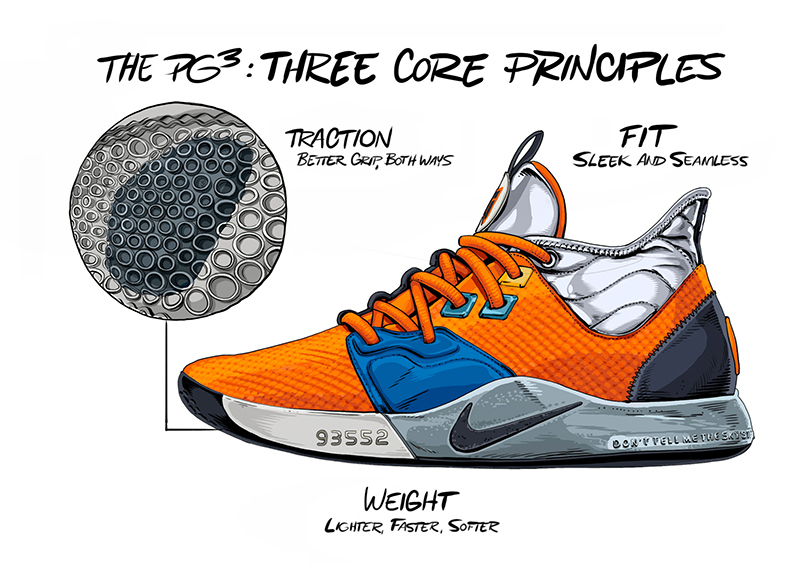 Remember Where You Came From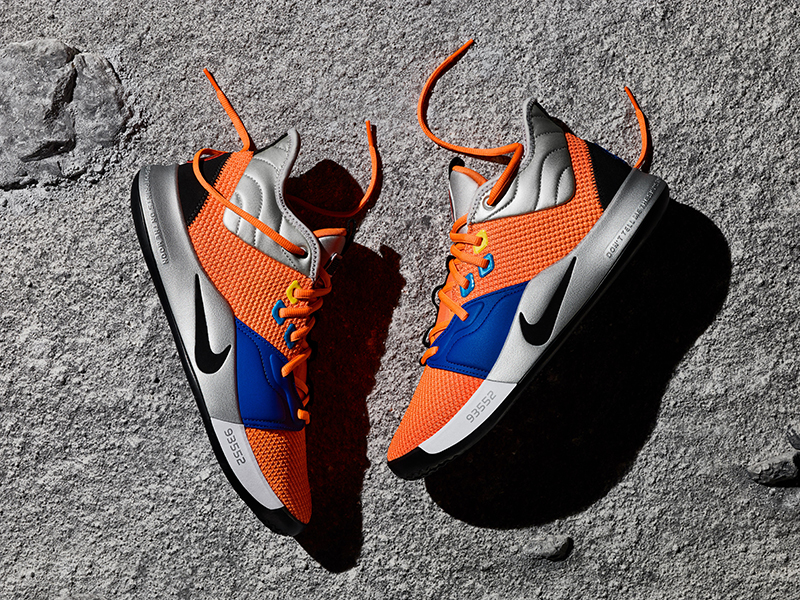 "Tony and I have gotten to the point where he knows what works for me," says George. "Throughout the line, I got more vocal because he's kept me in the loop, and also because he's kept me comfortable to where I'm able to talk about the entire design process."
Similar to previous iterations of the PG line, there's a lot of Paul's personality all over it. Within the shoe's pattern, you'll see various numbers such as PG's birthday, the different numbers he's worn during his career and the number of tattoos he has.

Keeping things close to home, the lead colorway for the PG3 highlights his hometown of Palmdale, CA. The NASA-inspired colorway is a nod to the NASA's research center located in his hometown. The quote "Don't tell me the sky's the limit when there are footprints on the moon".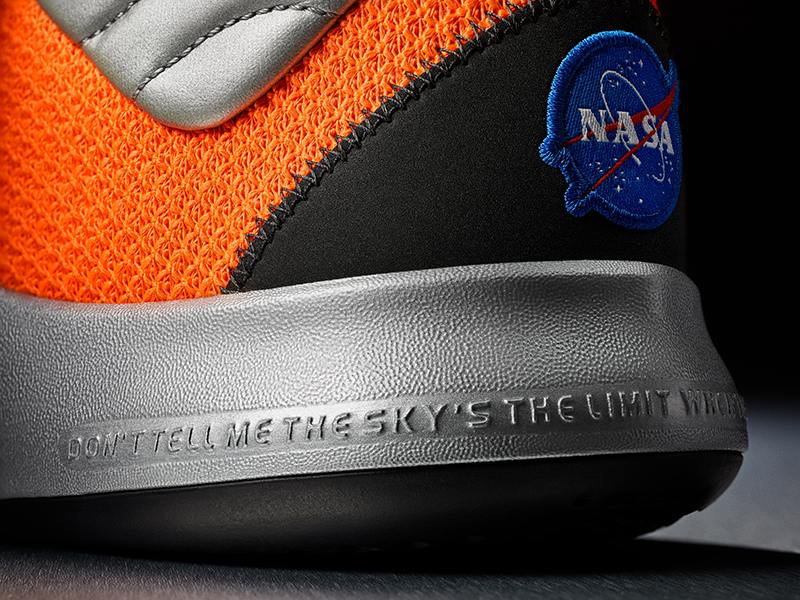 The PG3 combines a collective wisdom over George's career. Included are years of insight into the footwear features that enable George to perform his best, night after night, through nine seasons of play while still setting him up to evolve.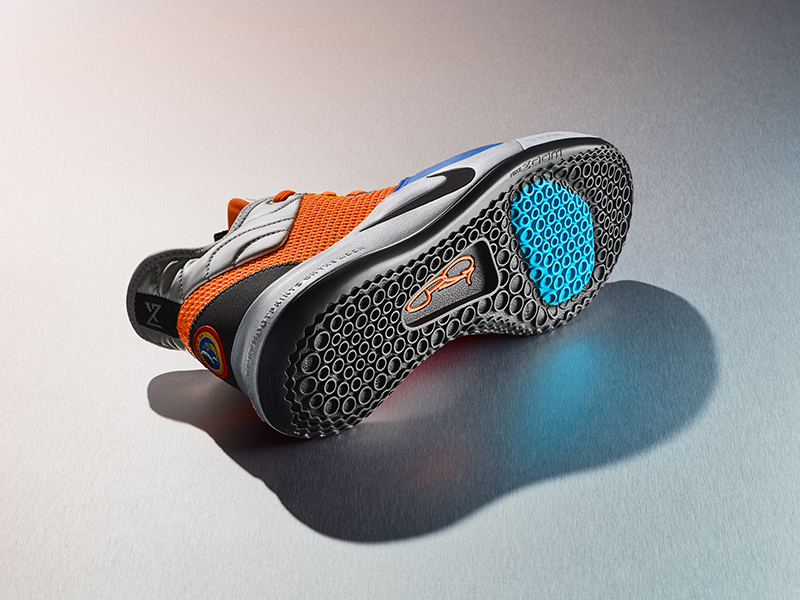 "I've always thought that there was another level for me," says George. "I always dreamed of playing in the NBA, but I wasn't satisfied with that. I always envisioned bigger plans. I want to be a champion. That's what my dream is. I always believed there was a higher space for me."
The Nike PG3 'NASA' drops January 26 across Nike stores and stockists.