They gave him a 50! They gave Jordan a 50!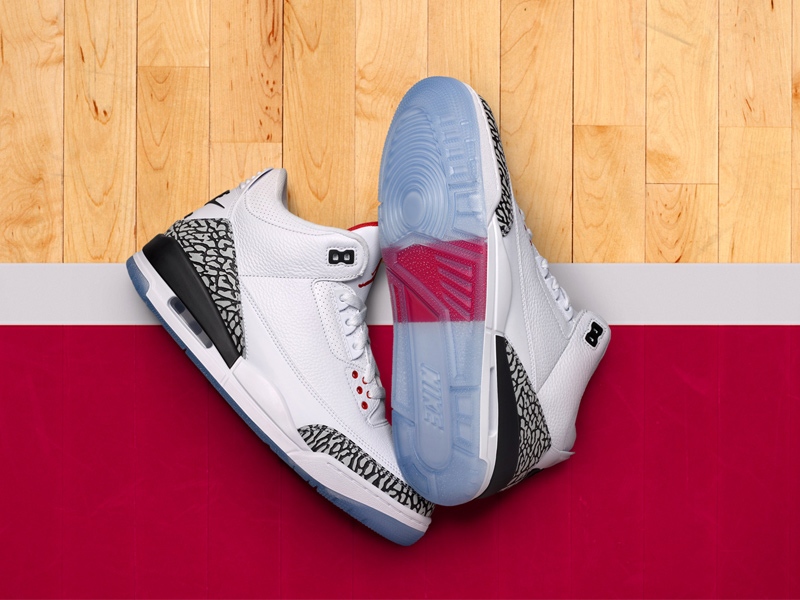 Over the last couple of days, we've been focusing a lot of our attention to the Black Cement IIIs and how significant they were to Jordan and his legacy. That February weekend in 1988 was instrumental in cementing (pun intended) Jordan's place in basketball history, as he brought home the MVP plum during the Midseason Classic and defended his crown during the Slam Dunk Contest.
The stage was set — MJ had to defend his crown against the Human Highlight Reel, Dominique Wilkins. You could say that Jordan homecourt advantage, but as he soared from the free throw line, you knew he was bringing home the hardware. He needed a 48 to tie, 49 to win. "He gave them a 50! They gave Jordan a 50!" Michael won his second Slam Dunk trophy and etched his name as one of the few multiple winners of the Dunk Contest.
On MJ's feet during the Dunk Contest were the White Cement 3s. To commemorate that eventful weekend, Jordan Brand is releasing a special "Free Throw Line" 3s. The shoe is quite close to the original article, but replaced the insoles with special graphics as well as icy blue outsoles with the red line, marking the spot where MJ took off from.
The Air Jordan III Retro 'Free Throw Line' will release this Wednesday at Titan via special raffle. If you had a chance to purchase footwear over the last few weeks and was able to acquire the 2nd special Premmy (Premytheus) postcard, there's a QR code at the back that needs to be scanned in order for you to join the raffle. All you have to do is scan (using your phone's camera) and wait for the link to pop up once the camera focuses on the QR. Fill in your raffle entry and Titan will be accepting entries from 6pm until 9pm today, February 12. Winners will be notified within 24 hours via SMS.