The PATTA x Jordan Collection is dropping this weekend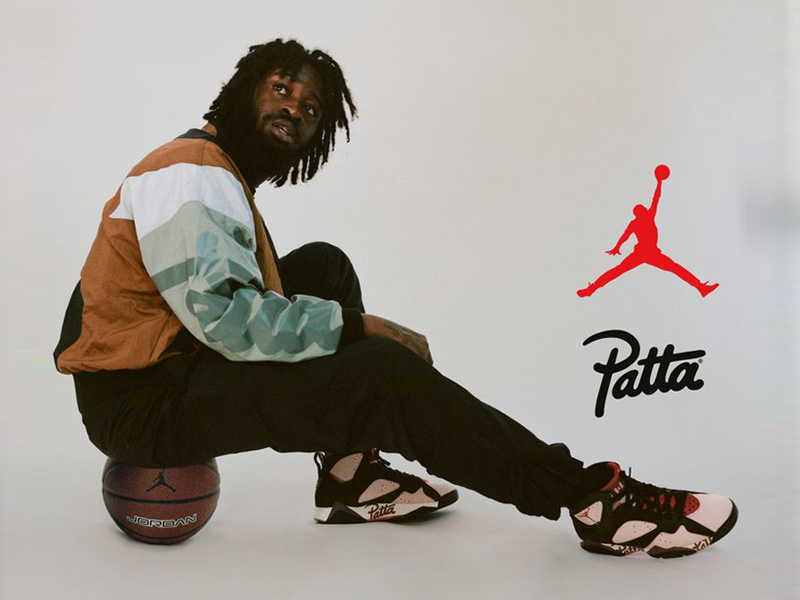 After releasing the Reflections of a Champion Pack last weekend and the upcoming Jordan 4 Flyknit release this weekend, Jordan Brand ain't done just yet. After releasing the collection within their own doors last month, Patta's first ever collection with Jordan Brand releases this weekend.
The collection, which features the Air Jordan VII Retro as well as a track suit, shorts, tee, and boonie hat, takes inspiration from the summer of '92 when the Dream Team played in Barcelona, which grew the game exponentially outside of the USA.
"It was a golden era for hip-hop and a big year for me, a lot of very important albums that I still carry with me came out between '92 and '96. And aesthetically, those years had such colourful imagery and strong connections to black empowerment. The VII and its geometric patterns also have a reference to Africa," says Schmidt, a native of Suriname who grew up an hour from Amsterdam in basketball-crazed 's Hertogenbosch."
Van de Waal, Patta's creative director, was drawn to the Air Jordan VII's elegant shape and minimal marking, and claims it to be his all-time favorite. Patta revives patterns from the Air Jordan 7 apparel that also dropped during that summer on to the rest of the collection. Adding their script logo and 'TEAM PATTA' to the set keeps them in check and stays true to their brand after all these years.
The Patta x Jordan Collection drops this Saturday, exclusively at Titan. The Air Jordan VII 'Patta' will be made available via Titan RSVP today until all slots are filled up. The shoe will retail for Php 9,995. As for the apparel, check out Titan's social media platforms for more information.