ART OF A CHAMPION: CONVERSE PRO LEATHER "THE SCOOP"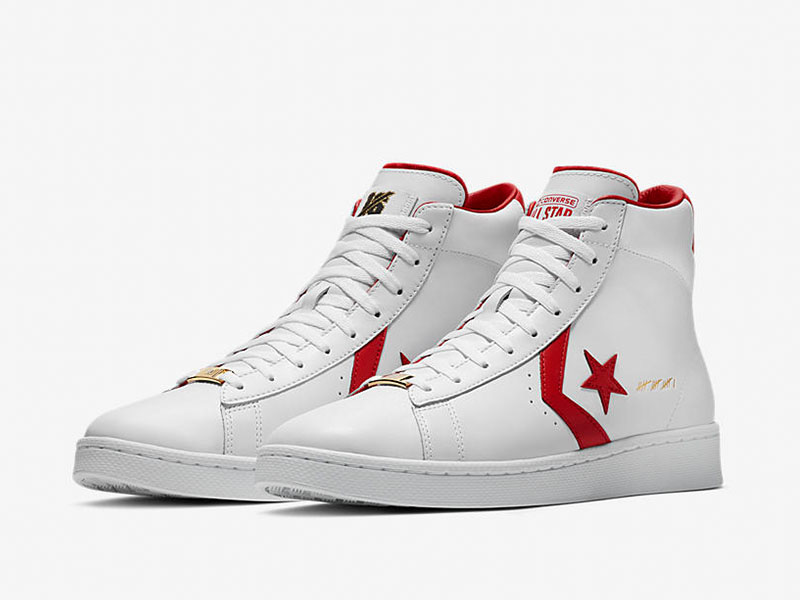 As the Art of a Champion pack kicked off last week with the Zoom Kobe 1 Protro, we're getting the next piece of the collection in the form of the Converse Pro Leather aka "The Scoop". During Game 4 of the 1980 NBA Finals, the "Doctor", Julius Erving took to the sky when he drove to the basket by the baseline. As he palmed the ball with his right hand, he hung in the air for an eternity, and then scooped the ball under the backboard spinning it in off the glass.
On his feet were the Converse Pro Leathers. The Converse Pro Leather uses a clean white leather upper with the red chevron on the side panels. Red and gold detailing are found on the tongue and collar. The 16 tally marks are also found on the shoe's lateral side, as well as on the right insole. A marked off 16 is also found on the right tongue to stress the importance of winning 16 games during the Postseason. To cap it off, gold "1980" lace dubraes are found on the base.
The Converse Pro Leather "The Scoop" will be made available via electronic raffle. From now until April 18 (8pm), head on over to Titan Fort and scan the QR code. This will be your entry to purchase the said pair. The Converse Pro Leather Mid retails for Php 11,990 and will be available this Thursday, April 19.