adidas Originals presents the Home of Classics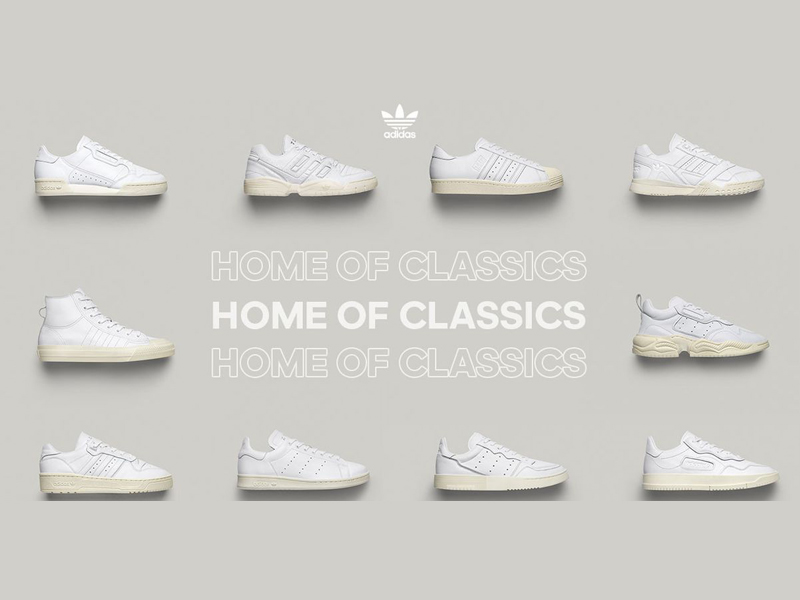 As the seasons shift from summer to the rainy season, the other side of the globe is welcoming the change with their wardrobe as well. adidas Originals recently revealed the Home of Classics collection, a collection of 10 white leather sneakers that has transcended cultures, style tribes and generations. The Home of Classics pack comprises of iconic pairss from the archives as well as new silhouettes inspired by these classics. Creators from all over made these pairs their blank canvas, carrying them through experiences thus making each shoe more meaningful. Whether worn by athletes, artists, musicians, designers, style icons or the youth, these pairs were re-interpreted to fit each lifestlye.
The Home of Classics – all done in premium white leather – are comprised of the following pairs: the Stan Smith, Continental 80, Superstar 80s, Nizza Hi RF, Rivalry Lo, Supercourt, Supercourt RX, Torsion Comp, S.C. Premiere and the A.R. Trainer.
While we have seen the Superstar 80s, Stan Smith, and Continental 80 drop over the last few years, adidas Originals brought back the Torsion Comp – a direct reissue from the 90s. The S.C. Premiere, A.R. Trainer and Supercourt were all reimagined from the classic styles we've grown to see from adidas.
Just like most basketball sneakers, some kicks like the Nizza Hi RF and Rivalry Lo made their mark on the streets. The Nizza became a skateboarding staple, while the Rivalry Lo turned into a streetwear staple off the court. The Supercourt RX may be a new sneaker, but represents everything great about adidas' on-court archive.
Beginning June 1st, the adidas Originals Home of Classics collection will be available across retailers everywhere. To kick things off, the Superstar 80s, Continental 80, Supercourt and the Supercourt RX will be available across adidas' retail network. While the collection may not be complete, you can find the pairs at Commonwealth, Sole Academy, adidas Originals Neighborhood stores, and adidas.com.ph.